Ultimate Love TV Reality Show Day 2 – Some early predictions
Ultimate Love dynamics: Some early predictions
It's only been 24 hours and some change but the ships have already begun to sail. Here's what the Twitter-verse is saying and how feasible we think these couplings are.
There's already been some much interraction and curiosity as our Guests sift through the choas and try to make that all-important connection that could end happily ever after. It isn't a decision to take lightly as Aunty stressed yesterday, so we can understand the cautious approach most are taking. That said, there are a few couples who are trusting their instincts and wearing their hearts on their sleeves. Here's a deeper dive
These two hit it off from the very first night and have spent many hours chatting and connecting, something Bolanle said she privileges in a man. That said, there hasn't been much in the way of intimate chemistry leading some to argue that theirs is a platonic friendship. We're not sure we totally agree. There've been a few intimate moments and this could still blossom into something greater. We'll be watching intently.
Love triangle: Rosie, Kachi and David Wilson?
There's an intense, sensual chemistry between Kachi and Rosie. This was most noticeable yesterday when he cradled her in his one arm and gently stroked her shoulder during the chat with Aunty. That said, unlike Bolanle and Arnold they haven't engaged in conversation as intensely… Enter David Wilson, the conversationalist!
He's been flirting pretty intensely with Rosie and she seems to be falling for his quick wit and humour. However, we couldn't help noticing how deeply hurt Kachi was when Rosie started laughing and cradling David's shoulder right in front of him at the dinner table this morning. It also wasn't lost on us when he uttered the words, "Actions speak louder than words!" Could this be the first heartbreak of the season?
It's Morning in d love pad with Iyke & Theresa#UltimateLoveNG pic.twitter.com/DzkXx91DBh

— ❤Mercyosaro❤ (@poshsypce22) February 11, 2020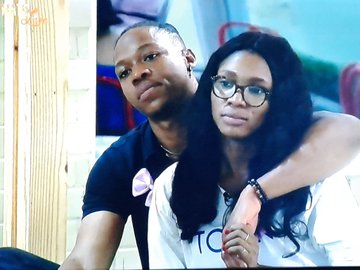 Source: Africamagic