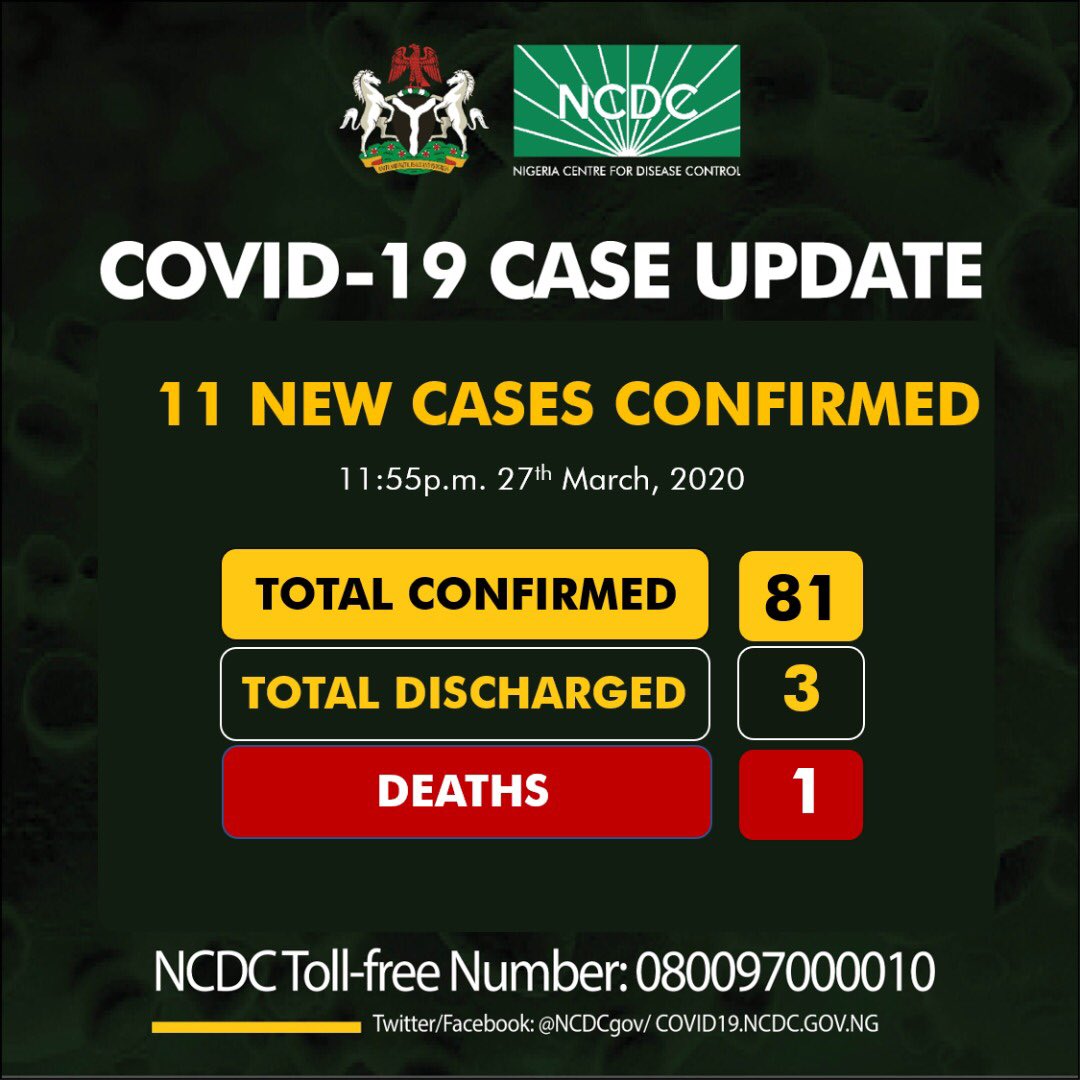 Coronavirus Update: 11 new cases confirmed as Nigeria hits 81
Nigeria Center For Disease Control, NCDC has confirmed 11 new cases Friday night. The latest update was posted through their Twitter handle as at 11:55 pm bringing all cases to 81 persons infected in Nigeria.
The new cases is in Lagos, Enugu and Edo states. To this effect, Lagos shares the highest number of persons infected with the pandemic Coronavirus as Enugu joined in the list of confirmed states.
And the current breakdown of cases is as follows;
Lagos– 52, FCT– 14, Ogun– 3, Ekiti– 1, Oyo– 3, Edo– 2, Bauchi– 2, Osun-1, Rivers-1, Enugu– 2
Before is the information as posted by the center;
11 new cases of #COVID19 have been reported in Nigeria: 8 in Lagos, 2 in Enugu & 1 in Edo State
As at 11:55pm 27th March, there are 81 confirmed cases of #COVID19 reported in Nigeria. 3 have been discharged with 1 death.
11 new cases of #COVID19 have been reported in Nigeria: 8 in Lagos, 2 in Enugu & 1 in Edo State

As at 11:55pm 27th March, there are 81 confirmed cases of #COVID19 reported in Nigeria. 3 have been discharged with 1 death. pic.twitter.com/7p3v3qAcGM

— NCDC (@NCDCgov) March 27, 2020